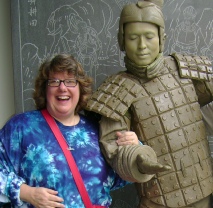 Terry Kottman, Ph.D., Registered Play Therapist-Supervisor, NCC, LMHC, founded The Encouragement Zone, a center where she provides play therapy training, life coaching, "playshops" for women, and play therapy supervision. She regularly presents entertaining and engaging experiential workshops on play therapy; adventure therapy; activity-based counseling; counseling for children, adolescents, and their parents; consultation with teachers; and coaching adults. Prior to founding The Encouragement Zone, Terry spent eight years as a professor of counselor education at the University of Northern Iowa in Cedar Falls, Iowa, and five years as a professor of counselor education and director of the Child and Family Resource Clinic at the University of North Texas in Denton, Texas. In 2014, Terry was honored to receive the Lifetime Achievement Award from the Association of Play Therapy.
Terry is Jacob's mother and Rick's wife — her most important and favorite "jobs."
Contact Information:
tkottman@cfu.net
(319) 266-0887
PO Box 1045
Cedar Falls, IA 50613
Receiving training and supervision from Terry Kottman has been a journey that has profoundly changed my personal and professional life. As the author of Adlerian Play Therapy, she offers those whom she trains and supervises a valuable theoretical framework to guide their conceptualization of life experiences of clients, as well as their own. At the end of each of Terry's trainings, I left feeling exhausted yet revitalized, humble yet empowered, vulnerable yet knowing much more about myself than when I arrived, confronted yet cared for and with many new friendships. Through Terry, I have learned how to be more creative and authentic with clients of all ages, and especially a love of working with young children. Her knowledge, energy, compassion, generosity and sense of humor will always keep a person coming back for more.
Jim Greenwood, LMHC, LMFT Dunlap, IA